Posted by

Grey
Tuesday, June 15, 2010
WWE NXT Season One Rookie, Daniel Bryan, better known to the rest of the world outside the "WWE Universe" as Bryan Danielson, the veteran professional wrestler that has been active in the independent scene for more than a decade, was released by WWE effective immediately on Friday (June 11th).

*A note: The Daily Zombies operates on a GMT+8 Timezone, therefore this article was posted a good eight to nine hours before the live screening of Monday Night RAW on June 14th. All the better to see if my prediction work.


Oh, not forgetting the fact that the WWE management did the usual routine of wishing him the best in all future endeavors. So what really transpired here, fact or fiction? From the shocking angle that started in last Monday's RAW where all eight of the NXT rookies ganged up to interrupt the main event between John Cena and CM Punk, laying waste to both Cena (the number one babyface of the company) as well as Punk (one of the top heel in the company) and even Punk's lackey, Serena and Luke Gallows, collectively known as the 'Straight Edge Society'(SES) to the dismissal of arguably the most prominent individual from the otherwise dismal WWE NXT show, what happened?

We take a look at the timeline of the events and as usual, provide our take of what happened.

On last Monday night (June 7th), as mentioned earlier, the attack by the NXT rookies on last week's RAW, surprisingly almost globally well-received by all wrestling critics, was affectionately coined as the "NXT Invasion". Appropriately so, given the 'lynch mob' attitude of the rookies, and the destructive impact as even the mats, the ring and the announcing area was dismantled while commentator Jerry "The King" Lawler got a severe beatdown lying in the destroyed announcing table as even ring announcer Justin Roberts got his end of a beating.


On Wednesday night (June 9th) at the FCW (Florida Championship Wrestling, the official developmental territory for WWE) house show of which the main event were initially advertised as The Miz and Daniel Bryan vs. Christian and Heath Slater but got all twisted in the 'NXT Invasion' as the match-up were switched to Pros vs. Rookie match with The Miz and Christian stacked against Daniel Bryan and Heath Slater, who were positioned as the heels of the match. The main event culminated in yet another massive joint attack by all eight rookies.

Check out the detailed report on the otherwise lesser known show below, courtesy of PWTorch.

Christian & The Miz vs. Daniel Bryan & Heath Slater went to a No Contest in the main event. This last match took the cake. It pretty much worth the price of admission alone to be honest. It was advertised as Miz and Bryan vs. Christian and Slater. To start the entrances, Miz's music hit but he didn't show. Christian then came out to some odd, Heath Slater-like music afterward and cut a great promo thanking FCW for playing his ring entrance music from six years ago. He called out Heath Slater on the "cowardly" acts Monday night on Raw and said that he never returned his phone calls. There were chants of "Cena Sucks" and he witfully replied, "He's the champion, so I'll have to disagree."

Heath Slater came out to a ring of boos and had a good exchange with Christian for the next few minutes about how he didn't like the answers Christian gave him when he called before and that fourth place wasn't acceptable for him. The crowd blew up when all of a sudden Bryan Danielson hits the ring and decks Christian from behind. He and Heath put the boots to him and then out runs Miz for the save. He cleared house before Danielson and Slater get the better of him. It was here that Danielson whipped out the "N" armbands. This got a ton of heat from a small crowd of maybe about 100-200 people. It was a great moment with the continuation of a major storyline from TV. Eventually, though, Miz and Christian recovered and challenged them to a Pros vs. Rookies match.

This match went about 15 minutes and was an absolute blast. Ring psychology was fantastic and there were a handful of fun moments with Miz and Christian playing for laughs. They both also did the clapping, crowd-pleasing action that Christian does during every match about half-way through. It was also a lot of fun to see Danielson as a heel. He and Slater were all over the crowd and got a lot of good, solid heat. I was shocked to see Miz cheered so much even by kids. To me, this shows that NXT angle is already working where the crowd is getting behind the "WWE Pros" no matter who they are. I'll be interested to see if they use Miz as a face-figure now on TV since his angle with Danielson has seemingly evolved into this faction storyline.

The match had some good heel tactics and great overall tag team action. Near the end, the crowd blew up again when the rest of NXT Season 1 made their way to the ring lead by Wade Barrett. Christian and the Miz got back to back and took the beating like men but got outnumbered by the "Rookies." Another funny spot here was the referee taking off his shirt and joining Miz and Christian. After a good laugh from the crowd, he was tossed out of the ring. The crowd was all over them and the reaction was fantastic for an independent show-size group of fans. They laid out Christian and Miz before tearing the area around the ring up a bit and threatening the two ring announcers and Tom Prichard. They all lined up on the stage to close the show as the crowd booed and Dr. Tom Prichard went in the ring to help Christian and Miz, who got a great standing ovation. Most of the crowd was on their feet for the whole main event.

On Thursday (June 10th), Cena, who was on the receiving end of a major beat-down that led to him being stretchered out by the end of RAW to sell the impact of attack, continued the angle by playing up a concussion and back injuries when he first respond to the attack via his twitter account. "Checked out fine. Mild concussion and some back and hip trouble, but I am in 1 piece. Thank u for your concern.'

Nice development by the way.

On Friday (June 11th), comes the shocker. WWE announced via their official site that NXT season one rookie Daniel Bryan (Bryan Danielson) was released effective immediately and wished him the best in all future endeavors.

All online communities that have been following the storyline closely chuckled at the news. Even Dave Meltzer, of the most reliable online wrestling source, the Wrestling Observer, determined that it's a work.

On Saturday (June 12th), Danielson, in response to the release, posted a short message on his twitter account, "Just changed my twitter name to Bryan Danielson. The winds of change are stirring." Danielson has changed his Twitter account from to Twitter.com/bryandanielson.

Fans everywhere started to question themselves: Is the firing legit or a work? Speculations went rampant with some suggesting that Danielson stepped on the wrong shoe when he spit at Cena and many other stuffs until word from Dave Meltzer and many other wrestling news sources suggested that Danielson was released for his conduct during the NXT Invasion angle on last week's RAW. Supposedly, somebody either high up in the management or outside of WWE (depending on your preferred sources of wrestling rumors) got in Vince McMahon's ear, complaining on the offensive nature of the image of Bryan choking ring announcer Justin Roberts out with his own tie, deeming it too violent for WWE's PGTV demographics. Word is , that Danielson broke a company protocol that was put in place after the Chris Benoit tragedy that nobody is to use ropes or other objects to choke opponents. To determine who exactly is this mysterious wimp who voiced out the wimpy complaints would be fruitless and stupid, to be blunt. Online speculations have listed everyone from toy compant Mattel, to someone from Linda McMahon's Senate campaign to even Linda herself.

On yesterday (Sunday, June 13th), Danielson followed up on his twitter account, "Biding my time, waiting for the right moment to speak."

On today (June 14th), Cena posted a long message on his Twitter account, expressing his upset over the release and indicating that he wants to see Danielson come back to WWE and to have a match with Danielson. Here goes the message, "I am very upset to hear about the release of Bryan Danielson. Social networks were formed so people would have a voice, and an opinion. I know you all have your own, theories and whatnot. I respect that. I have never asked any of you to feel a certain way about me. But Bryan left a lasting impression on the WWE Universe in a very short time, and although it came at my expense, I agree with the majority of you who are caught off guard by this choice."

"I know I'm not exactly appreciated by all, nor do I care to be, but I believe what I believe. I would like Bryan to come back to the WWE. I would like to sign your petition to bring him back. I was taught to stand up for what I believe in. I tried and failed, so I could use some help. Tell me how to sign and I will. If for nothing else, to at least have a chance to have a match with him after what was done I know that seems a bit more fair.

"Give me a chance to have a fair match with him, and give him yet another chance to prove that he does belong with us. Sorry for the long message, I know I am probably way out of line, I am sorry if I have offended anyone."

And with that, we have all our "facts" on the events thus far, and being the smarks that we all are, let's differentiate the real facts and the worked ones.

To quote The Miz, "Really?" "Really?" In my opinion, contrary to the general online consensus on the legitimate release of Danielson, the last comments by Cena seemed to be the final nail to confirm that the release is a work. For anyone who missed the NXT attack last Monday, here's a GIF image I found online featuring the hilarious performance of ring announcer Justin Roberts with his dead-on comedic look when he got choked. Been a long time coming.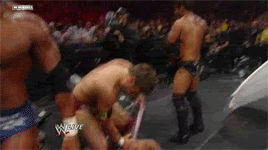 Firing someone who is obviously a star on the rise and quite possibly the revelation of the entire fifteen episode season one of the otherwise crappy WWE NXT, for choking someone with a tie? This is ridiculous even by the standards of WWE. They are building the heat up in an extraordinary manner by tapping into online attention. Eat yer heart out, Cole. And GDYC too. Can you imagine that everytime somebody chokes somebody, and it reminds you of the Benoit suicide/murders? Well, for starters, Cena's very own STFU (Just plain STF these days for the PGTV demographics) sure can remind me more of the Crippler Crossface sbmission finisher of Benoit if it in fact does, which is like, for the first few times he uses the move. The Undertaker constantly chokes anybody anytime too.
In conclusion, I could be wrong (which is absolutely probable, given my
jumpy hit-rate for the PPV results prediction lately
), but in the very unlikely case that the release was indeed legitimate, I can easily foresee WWE wanting to bring Danielson back sooner rather than later to further escalate the ongoing feud with incredibly realistic heat generated from this development. Danielson has a 90-day no compete clause to fulfil, of which he would be free to join his old ROH buddy, Nigel McGuinness (now known as Desmond Wolfe) TNA thereafter.
Nevertheless, it would only be wise for Danielson to stay in WWE just so to live out his potential. Contrary to what NXT trying to sell you, this is one individual who can not only wrestle, but can talk articulately and yes, he oozes charisma too, in his very unique way as an online darling. That's one fanbase WWE would be dying to reach out, unlike what Michael Cole trying to sell you. Which is exactly what WWE is doing right now, if my hunch is correct with this one.
Should I be proven wrong, and tragically, Danielson moved on to TNA or any other promotion, well, I wished the best endeavors for him too, much like WWE, but only more singularly sincere by a scientifically proven 2000%. And we here at The Daily Zombies, would like to thank him for:
1) Delivering the incredible feud with his Pro, The Miz (a pity how much potential that had),
2) Kicking Batista's ass,
3) Bringing the GDY to C, by kicking Michael Cole's ass all over the arena.
For everything else, the NXT fiasco will not be on his account and we will remember only the good times both past and promised.
The happier times...
Being a multi-time world champion (ROH World Championship in Ring of Honor, two-time PWG World Championship in (PWG)Pro Wrestling Guerrilla, one-time FIP Heavyweight Championship in Full Impact Pro, one-time wXw World Heavyweight Championship in Westside Xtreme Wrestling, one-time GHC Junior Heavyweight Championship in Pro Wrestling Noah and the IWGP Junior Heavyweight Tag Team Championship in New Japan Pro Wrestling with Curry Man), Danielson is officially recognized as the last ROH Pure Champion, as he unified the Pure title with the ROH World title in 2006. With that raw (no pun intended) champion caliber, Danielson will only endeavor in this career with or without ours or anyone's blessings.
Oh, and Twitter is a pretty cool tool for making announcement.
Posted by The Daily Zombies
Posted by The Daily Zombies
June-13-2018
Posted by The Daily Zombies
Jun-12-2018
Posted by The Daily Zombies
Jun-11-2018
Posted by The Daily Zombies
Jun-11-2017
Posted by The Daily Zombies
Jun-9-2018
Posted by The Daily Zombies
Jun-8-2016
Posted by The Daily Zombies
Jun-7-2018
Posted by The Daily Zombies
Jun-6-2018
>

Dead Days

Labels
Zombie-Vision TV
(1272)
Movies
(1053)
Graphics
(733)
Games
(639)
Movie Poster
(550)
Movie Trailer
(531)
Movie Preview
(474)
Marvel
(349)
Game Trailer
(347)
DC
(298)
Playstation 3
(267)
Game Preview
(250)
TV
(235)
Zombies
(232)
Xbox 360
(229)
Undead Monday
(224)
Humor
(209)
Zombie Of The Week
(207)
PC Games
(125)
Game Art
(117)
Game News
(109)
Movie News
(108)
Freebies
(99)
Anime
(84)
Wrestling
(82)
Editorial
(77)
It's A Strange World... Let's Keep It That Way.
(65)
Toys
(62)
Music
(55)
Wallpaper
(52)
iPhone Games
(50)
iPhone
(47)
Art
(46)
Wrestling PPV Previews
(33)
App Attack
(31)
Nintendo Wii
(28)
Web Comic
(25)
Wrestling News
(21)
Top 13
(10)