Posted by

Grey
Saturday, November 27, 2010
A couple of things on the current state of World titles in the wrestling worlds... and an eerily haunting image that is currently traumatizing all the online wrestling forums out there.


It's in fact, just yet another week of wrestling-watching, but as aforementioned, there's a couple of things that we really need to address. With professional wrestling being categorized as sports entertainment, you can bet that this is with regard to its sheer absurdity. Mind you, absurdity and pro-wrestling go hand in hand, so what we are talking about here are something quite exceptionally... absurd.

Firstly, the positive... sort of. While it's always endearing to see kids get outrightly depressed when something bad (in a scripted way) happened to their favorite wrestler, the venomous fury pouring out from this particular young lady simply takes the cake of wrestling outrages.


So what actually incur the rage of this little lady?

While we definitely miscalculated the results for the WWE title match-up between then-reigning champion Randy Orton and then-title contender, Wade Barret, the following Raw immediately recreated one of our speculated results when The Miz took advantage of a worn-out Orton (after suffering attacks from the entire Nexus and surviving a title rematch with Barrett), and won the WWE championship. The camera crew cleverly pointed at this young lady's silent outburst of omnipotent frustration. A scene that has since went on to become the wrestling meme of the year. Heck, there's even a YouTube video on it.



Ever the keen observer of professional wrestling with one hell of a sense of humor, Matt Fowler, the regular writer for the (mostly) weekly "Wrestling Wrap Up" at IGN, has this to say:

My god. Scowly's coming, and freakin' hell's coming with her! If that girl had laser vision everyone in the arena would be dead. I think it was raining frogs outside. Look at her. She's trying to Carrie the entire world!

What I'm trying to say, folks, is that none of us are safe. I'm pretty sure we only have seven days to live. It's quite possible that the prophesized demon child of lore has arrived and all who've looked into her hellacious gaze have been cursed. She's like every horror movie rolled into a joint and smoked. I seriously demand that she be given an acting managerial role in the WWE. And I think that The Miz's eventual Mattel figurine from the "Defining Moments" line should come with a little Scowly buddy.

Look, we can joke about Scowly and her supreme objection to The Miz's big title win, but she really helped sell his victory.

Along with a couple of pictures to further mock about.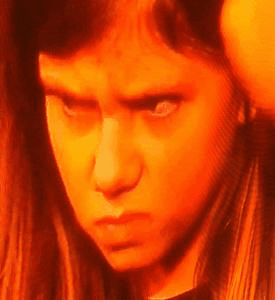 Now, if only The Miz can tap into this amazing objection from our little Miss."Internet Meme of the Week" in his championship promo in the upcoming Raw.

Anyway, just in case of any further reports of Carrie-style outrages from wrestling-wtaching kids around the world, do note that "Juan Cena," the "Mexican cousin of John Cena" has been reportedly included in the announced roster for the upcoming show these couple of weeks, including WWE's next Madison Square Garden show in New York City the day after Christmas on December 26th, where he will be appearing in a four-way steel cage match for the WWE Title along with WWE champion The Miz, Randy Orton, and Wade Barrett.

Mr. America, anyone?




With that out of the way, let's move on to a more solemn subject in wrestling.

Lo and behold, the ugliest Championship belt in the history of professional wrestling.


And you thought the WWE Divas Champion Belt sucks.. Now meet its evil, darker, more pretentious brother!


Here's what Top Rope Belts, the company that created the belt, have to say:

Top Rope Belts is proud to have created this work of art for the Immortal Champion, Jeff Hardy. Based on a painting by Hardy himself, the belt is a showcase his personal, professional and artistic styles.


Seriously, you have to wonder if the belt was exactly what TNA utilized to lure Jeff Hardy to joined them instead of going back to WWE.

While we here at The Daily Zombies are certainly no big fans of the spinning belt of John Cena or Edge's "Rated R" belt, a belt with the face of Jeff Hardy's face imprinted on it triumphed all as the "ugliest championship belt in wrestling history".


For those who like to see more of this monstrosity, head over to Top Rope Belts's page.


Posted by The Daily Zombies
Posted by The Daily Zombies
June-13-2018
Posted by The Daily Zombies
Jun-12-2018
Posted by The Daily Zombies
Jun-11-2018
Posted by The Daily Zombies
Jun-11-2017
Posted by The Daily Zombies
Jun-9-2018
Posted by The Daily Zombies
Jun-8-2016
Posted by The Daily Zombies
Jun-7-2018
Posted by The Daily Zombies
Jun-6-2018
>

Dead Days

Labels
Zombie-Vision TV
(1272)
Movies
(1053)
Graphics
(733)
Games
(639)
Movie Poster
(550)
Movie Trailer
(531)
Movie Preview
(474)
Marvel
(349)
Game Trailer
(347)
DC
(298)
Playstation 3
(267)
Game Preview
(250)
TV
(235)
Zombies
(232)
Xbox 360
(229)
Undead Monday
(224)
Humor
(209)
Zombie Of The Week
(207)
PC Games
(125)
Game Art
(117)
Game News
(109)
Movie News
(108)
Freebies
(99)
Anime
(84)
Wrestling
(82)
Editorial
(77)
It's A Strange World... Let's Keep It That Way.
(65)
Toys
(62)
Music
(55)
Wallpaper
(52)
iPhone Games
(50)
iPhone
(47)
Art
(46)
Wrestling PPV Previews
(33)
App Attack
(31)
Nintendo Wii
(28)
Web Comic
(25)
Wrestling News
(21)
Top 13
(10)