Posted by

Grey
Saturday, October 8, 2011
The somber impact from the sad demise of Apple co-founder Steve Jobs continues to be felt across the world. Here, The Daily Zombies take a look at the online graphic community who is mourning the great visionary the only and best way they can.


As the entire world continues to mourn the passing away of Apple co-founder Steve Jobs, the unprecedented number of outpouring of grief on the internet has now reached phenomenal level. One of the most inspirational figures in recent times, Job's influence over pop culture are often understated. With his association with Pixar and his preference for minimalism in his innovation, Jobs has also changed the world with his particular taste in aesthetics as well.

With his passing away, the graphic community pays tribute to one of the greatest minds of our time with an influx of illustrations in honor of the man. Kicking off the gallery, we take a look at the somber reimagination of the iconic Apple logo that was in our original obituary entry. Created by Jonathan Mak, an unsuspecting second year graphic design student at Hong Kong Polytechnic University, the logo has since became a worldwide internet sensation.

"Thanks, Steve" by Jonathan Mak [tumblr]

Posting designs like this one makes me paranoid, because I can't shake the feeling that it's not original. I enjoyed the process regardless, but please let me know if somebody else beat me to the idea!

In a later interview with Agence France-Presse, Mak elaborated on his design:

"He was a minimalist, which is the way I would like to emphasize in my design — fewer elements but a powerful message. Steve Jobs strongly believed in his own ideas and continued with his beliefs no matter how people criticized him. He was courageous".

Billy S. [tumblr]

Requiescat in pace signor Steve Jobs

"Thank You, Mr. Jobs" by Stanley Chow


Thank you for everything you have done. My life would not have been the same without you. R.I.P. Mr Jobs.

"Thanks, Steve" by *mikemaihack [deviantART]

Quick tribute sketch of Steve Jobs, in his youth, who we all know passed away yesterday due to an ongoing battle with pancreatic cancer. He was 56.

Probably because of the solitary nature of being a cartoonist, I always liked the idea of Jobs toiling away in his garage into the late hours of the night, hunched over a bulky hand-made device that will not only serve to change the world, but solitariness as well.

The above quote comes from a commencement speech Steve Jobs delivered to Stanford University on June 12, 2005.

R. Stevens



"Dap Bros. 21 - Steve Jobs & Steve Wozniak" by Henry Bonsu

R.I.P - Mr. Jobs

"Thank you Steve :)" by Meneer Marcelo



For Steve Jobs by *teeru [deviantART]

Steve Jobs died today. I've looked up to him for over 15 years, everytime I feel like my life is going nowhere I watch his Stanford speech. I didn't expect him to die so soon.

I deleted this deviation and have re-uploaded it so I can dedicate it to him. I sent him a copy of this a month ago. I hope he got to see it.

"Stay Hungry, Stay Foolish" by Kasidej



"Goodbye_Steve" by 64 Colors

*sigh*... :(

"Steve" by Marco Careddu



"JOBS" by Simon Fraser

In keeping with the spirit of the man I've tried to keep this as minimal as possible

For Steve by *minitreehouse [deviantART]

A quick digital painting for today.

RIP Steve Jobs (1955-2011)

I'll never forget this speech from him.. it changed my life: [link]

'Stay Hungry, Stay Foolish' - Steve Jobs

"People Who Died: Steve Jobs" by Tim Gough

Steve Jobs (February 24, 1955 – October 5, 2011)

Phil Noto

R.I.P. Steve Jobs - a true visionary.


Steve Jobs by ~gilderic [deviantART]

RIP Steve Jobs (1955-2011)


"Steve Jobs deserves a shirt" by Erick Carjes




"Eternal Flame" by XKCD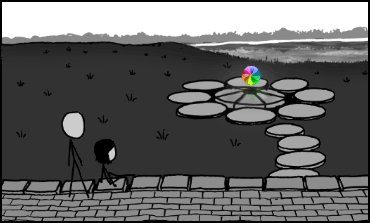 Source: Comics Alliance


Posted by The Daily Zombies
Posted by The Daily Zombies
June-13-2018
Posted by The Daily Zombies
Jun-12-2018
Posted by The Daily Zombies
Jun-11-2018
Posted by The Daily Zombies
Jun-11-2017
Posted by The Daily Zombies
Jun-9-2018
Posted by The Daily Zombies
Jun-8-2016
Posted by The Daily Zombies
Jun-7-2018
Posted by The Daily Zombies
Jun-6-2018
>

Dead Days

Labels
Zombie-Vision TV
(1272)
Movies
(1053)
Graphics
(733)
Games
(639)
Movie Poster
(550)
Movie Trailer
(531)
Movie Preview
(474)
Marvel
(349)
Game Trailer
(347)
DC
(298)
Playstation 3
(267)
Game Preview
(250)
TV
(235)
Zombies
(232)
Xbox 360
(229)
Undead Monday
(224)
Humor
(209)
Zombie Of The Week
(207)
PC Games
(125)
Game Art
(117)
Game News
(109)
Movie News
(108)
Freebies
(99)
Anime
(84)
Wrestling
(82)
Editorial
(77)
It's A Strange World... Let's Keep It That Way.
(65)
Toys
(62)
Music
(55)
Wallpaper
(52)
iPhone Games
(50)
iPhone
(47)
Art
(46)
Wrestling PPV Previews
(33)
App Attack
(31)
Nintendo Wii
(28)
Web Comic
(25)
Wrestling News
(21)
Top 13
(10)